Saddle & Nut Replacement
Bone, Tusq, GraphTech, Derlin, fossilized Walrus tusk,
and Wooley Mammoth fossilized ivory available.
Martin and Taylor preshaped nuts and saddles
Fossilized Walrus and Wooley Mammoth tusk stock.
Beautiful vintage look and crisp tone.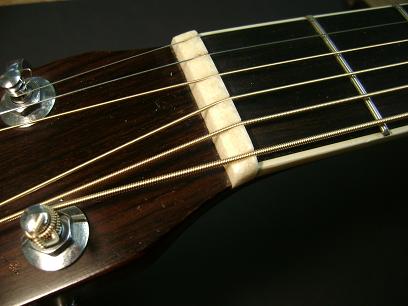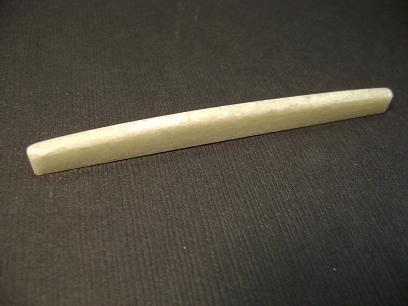 Breedlove stock saddle. Machine cut compensated, sharp b string break angle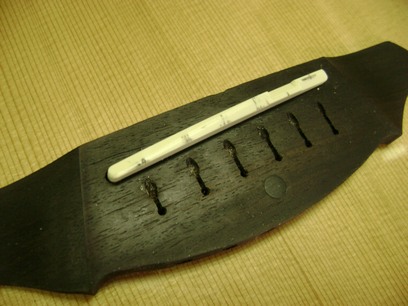 Customer requested extra light strings with unwound G string
Hand formed Tusq saddle, compensated intonation using a strobe tuner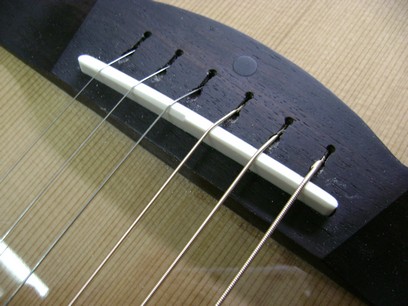 Graph Tech and Tusq saddles recommended for undersaddle transducers.
GraphTech compensated saddle
Note the bass side notch that prevents the artist from breaking transducers.
(Which he did often before this mod.)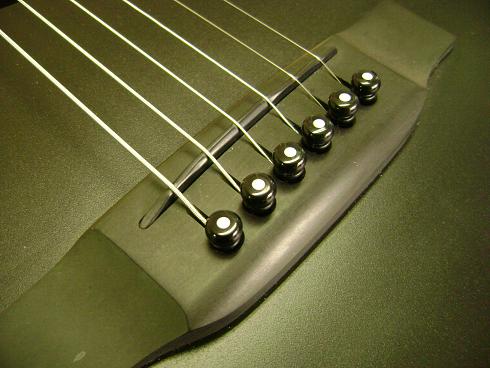 GraphTech nut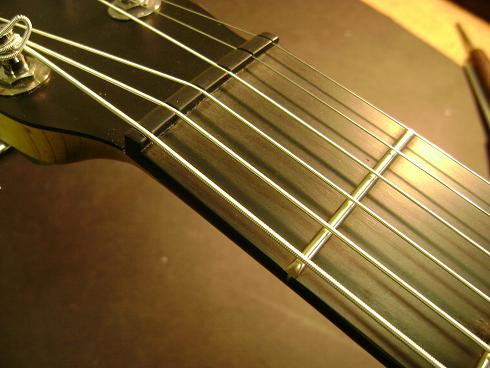 Compensated Tusq saddle for a Gibson belly up.
I check intonation with a strobe tuner and cut the saddle for each string.
This technique works well with undersaddle transducers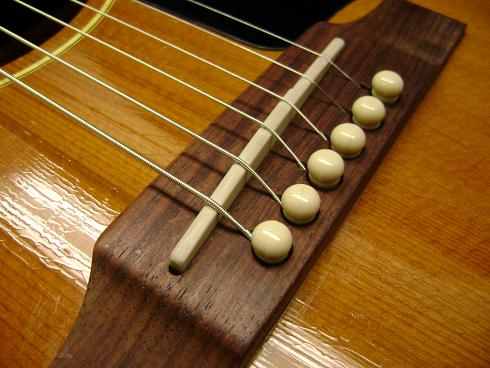 James' Gibson
James performs with this guitar 4 -5 times a week and constantly wore out frets and kept breaking strings.
Final solution: stainless steel frets and GraphTech nut and saddle.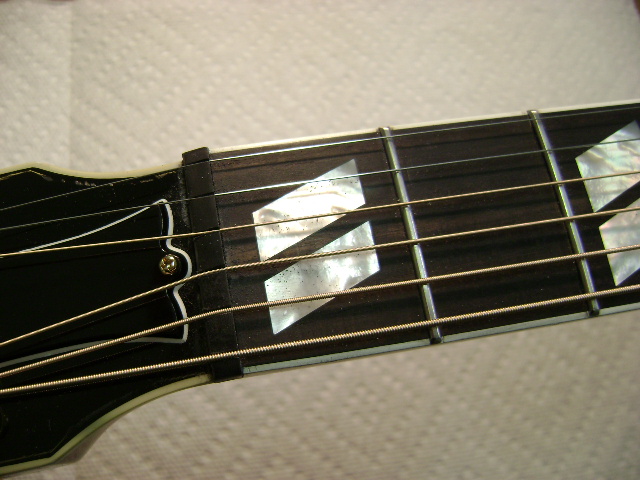 (note compensated saddle cut to the precision of my strobe tuner)
He constantly loses bridge pins too!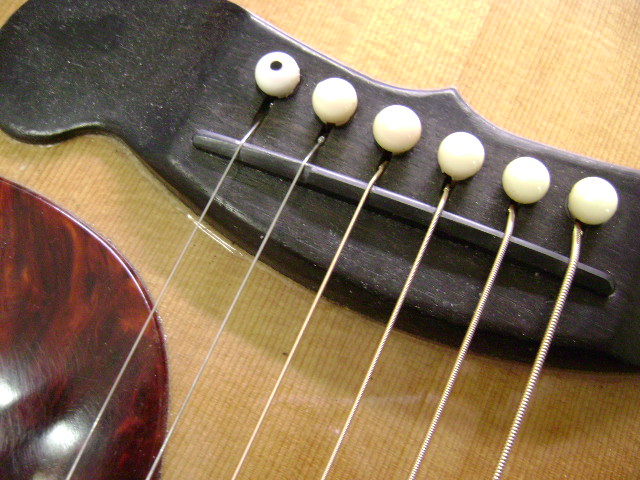 12 string compensated saddle
Once the frets are properly leveled and crowned, neck is adjusted, and action is correct,
I can check the intonation on my strobe tuner and compensate saddle for each string.
Note the ramps cut to improve string tension over the saddle.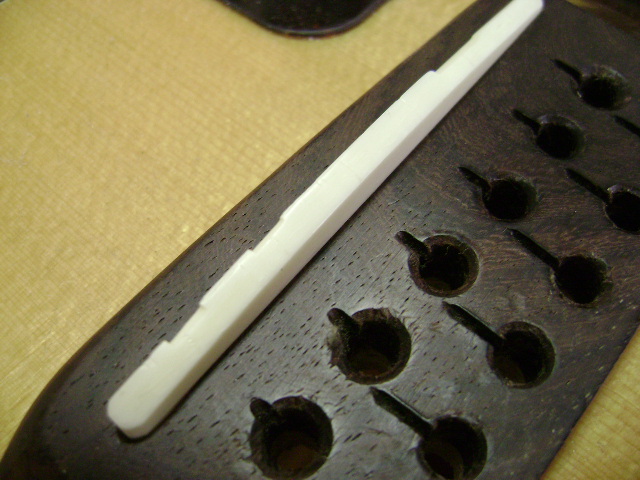 Les Paul nut replacement
Nut slots were too low. Way too much glue to hold the nut in place.
Sometimes I have to cut these nuts out due to overgluing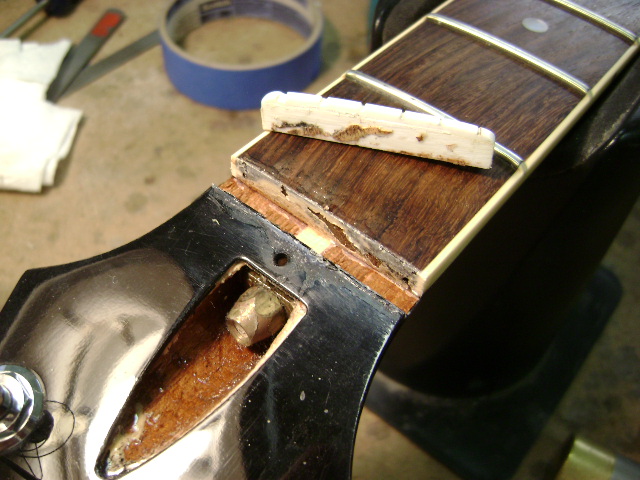 After cleaning all of the glue out. A nicely fit Tusq nut
Overall better tone and better fit.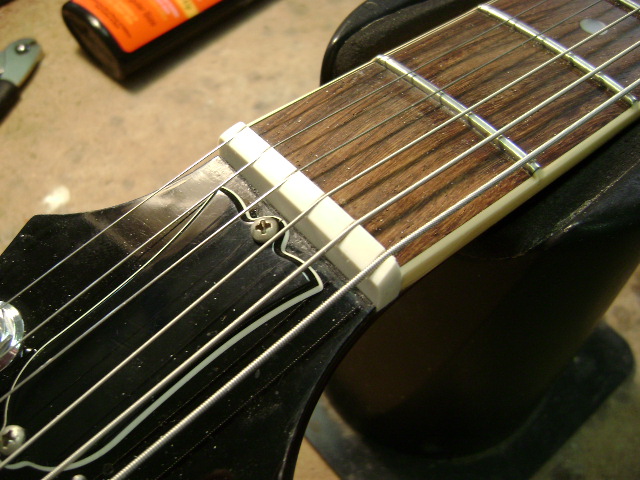 Strat nuts
Bone for tone, GraphTech or Derlin for tremolos, Tusq for performance
Bone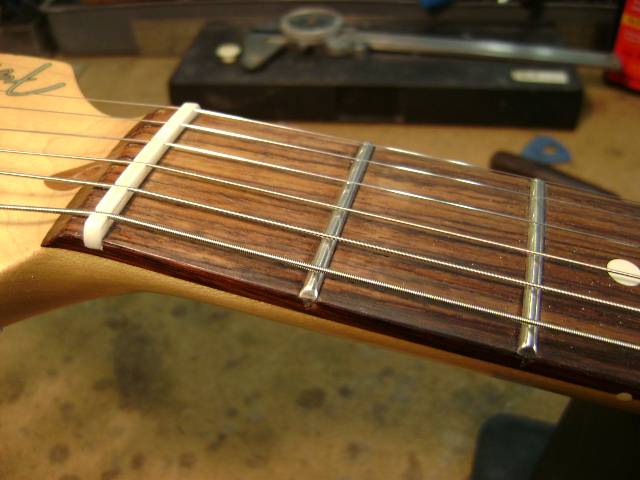 GraphTech