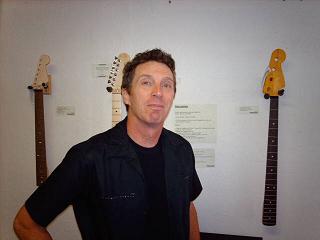 Ken Nash
Owner/Luthier
My journey into guitar repair and restoration began when I was hired by Kim Walker, now of Walkerguitars.com at the Guild Guitar factory in Westerly, RI.. I started inspecting guitars for finish flaws as they first entered the final assembly department. Kim eventually taught me most of the tasks in the department; fretwork, set-ups, building and installing harnesses, assembling solid body guitars, buffing finishes, nut cutting and replacement, and more. He also started teaching me repair techniques. We had to repair any finish dings, flaws, and dents and make them look brand new, otherwise the guitar couldn't go out! There were no "seconds" going out of the factory. It set a very high standard that has stayed with me to this day. I worked my way into the repair shop and ran it for a couple of years, not only being responsible for 200 - 300 guitars but also three other luthiers and dealing with customers. During my time there we worked on Richie Havens D40, Kim Thayil's S100, Slashes J30, and set-up and electrified all the Guilds for Alice In Chains unplugged. So many artists stopped by the factory while on tour. Brian May, Phil Collen, and Vivian Campbell to name a few.
I also started a modern quality control program at the old factory. Let's say I was very busy.
Six months before Fender took the factory over I left to work for Ron at Ronsguitars.com. It was a great experience dealing with customers face to face, and also working on a wide variety of guitars beside the Guilds that I knew so well. After five years with Ron I moved on to open my own shop in New London.
Since July of 2004 I've been enjoying my new shop at 22 Meridian. It's a great old building owned by GardeArts.com. Many local artists frequent the shop as well as musicians traveling through, either playing at the casinos, the Garde or at local clubs downtown. I had Brad Gillis of Night Ranger spend the afternoon in the shop and worked on his Gibson maple cutaway. It needed a new saddle and had tuning issues, a sticky nut. He was great, really nice and had tons of energy.
Estimates and quotes are always free. It may cost you a coffee though!
So drop by the shop, call, or e-mail.
Thank you,
Ken Nash
3 a.m. written and performed on a Guild F512
A virtual walk through the shop lobby.

Artists that visited the shop:
Jim Oblon
Steve Broderick
John Fries
Bill Bridges
Brad Gillis
Jim Carpenter
James Harris
Chris Leigh
DanWatson
The Reducers
Bill Light
Jay Dempsey
Eric Ducoff